What to make of the Biggest Cryptocurrency Market Sell-off?
The value of a Bitcoin dropped to about $7,900 early Friday morning February 2nd, 2018, a sharp contrast to its mid December 2017 highs of over $20,000 per coin. By Friday Morning, Bitcoin has seen $40 Billion of its value disappear into thin air, representing an astonishing 21% loss.
Ripple was by far the biggest loser volume-wise, losing a shocking 30% of its value representing $15 billion. Litecoin was also not spared, it saw over a quarter of its value erased, amounting to $3 Billion. Overall, the global cryptocurrency market witnessed a $100 Billion loss in value in just one 24 hour trading cycle.
While a majority of crypto investors are scratching their heads wondering how much longer the cryptocurrency market will take a beating before the gains of mid December 2017 comes back again, if ever, one analyst sees the slump in prices as a blessing in disguise.
Speaking recently to the American financial network CNBC's Squawk Box program, Michael Oved, the co-founder of the Brooklyn based cryptocurrency Airswap was upbeat about the recent losses across the crypto market. Oved believes that the recent fall in cryptocurrency prices present an opportunity to get into the market.
Oved told Squawk Box that a lot of hedge funds and other financial institutions on Wall Street have not yet embraced the cryptocurrency market and are waiting for the right time when the market is at a good level for them "to dip their toes in the water."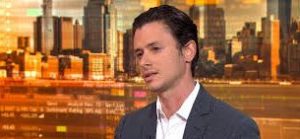 Oved believes that the more the prices slump, the more excitement builds up as more and more mainstream institutional investors are more likely to come on board.
Oved is of the view that the more these new parties embrace the cryptocurrency market, the more we'll see market prices stabilize and once again we'll see the upward spiral that we saw towards the end of last year.
Something good might come from the losses after all.