US Lawmakers Are Clueless About Cryptocurrencies
When Facebook CEO flew in to Washington last April to testify before committees in both the US House and the Senate in relation to his company's handling of user data, one thing that came out pretty quickly during the hearings was the sheer levels of ignorance on the part of the lawmakers regarding social media.
As expected, Twitter exploded with jokes touting the cluelessness of the US lawmakers especially as many of them were very ignorant about the social media platform and how it worked. The most memorable tweet that correctly summed the performance of the legislators was perhaps the one coined by tweeter user David Itzkoff.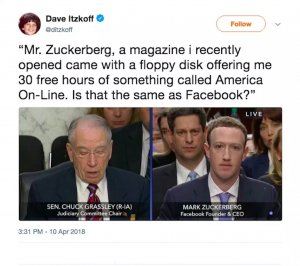 David Itzkoff's tweet was in no way a direct quote from Senator Chuck Grassley, the Chair of the much respected Senate Judiciary Committee. However, Itzkoff's play with words was no doubt an accurate portrayal of how far the senior citizen was out-of-loop with the very social media giant he was supposedly leading an investigation on.
Sadly though, if lawmakers find Facebook too complex to understand, then understanding cryptocurrencies and the blockchain technologies will surely seem like rocket science to them.
Recent suggestions made by Congressman Brad Sherman, a senior Democrat from California, for the United States to ban the mining and trading in Bitcoin during a House Financial Services Committee hearing sent shockwaves to the entire crypto community.
The shock from Sherman's remarks was not for the plausibility of his suggestion, but the fact that a senior lawmaker with over two decades experience would say such a thing. His remark was a clear demonstration that he had no clue about Bitcoin and the technologies that support it.
While the jury is still out as to whether the congressman was just trying to pander to his campaign contributors, what we can safely say is that the level of understanding that US lawmakers have regarding new and disruptive technologies leaves much to be desired. Perhaps we should start wondering if US lawmakers are really capable of providing the legislative oversight necessary to move the industry from hear going forward.